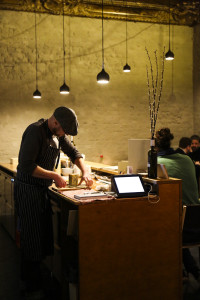 The idea of the Sardine Bar is simply ingenious – to revitalize the Schöneberg neighborhood with top-class canned fish as the core of a new gastronomy concept. Normally, canned food eats a bashful existence in supermarkets, a forgotten product with negative associations that cannot be found on any shopping list of the modern food scene – except anchovies. But this is about to change.
Thomas Vetter creates a fresh view of the diversity and potential of canned fish. He gives the guests of the Sardine Bar a new approach and thus a whole new awareness of the quality and variety of the ingredients. Yet the graphic beauty of the individual tin is actually reason enough to try what's in the tin.
There are big differences. From the ecological aspects to where the fish is caught, for example: Is it wild caught, protected, farmed. How does the quality differ in size, which ones are more aromatic? The fat content of the sardines and mackerel and what are the differences in the different fishing regions of the individual countries: Portugal, Spain and France as the main suppliers. Yes and then there are also vintage sardines. Similar to the development of chocolate in the last 10 years. We can also turn an industrial mass product into a fine product if the ingredients and quality are in harmony at the highest level. In the past, nobody knew where the cocoa bean came from.
Perhaps we should first list the four types of fish that are mainly concerned: sardines, mackerel, tuna and bacalau. These types of fish come in a can.
The tuna is fished ecologically clean, the sardines and mackerel wild and not farmed. This is the basis and now it continues with the varieties and ingredients, from the noble olive oil to the finely tuned spices, no possibility to miss a new experience with the fish.
In the Sardine Bar you can enjoy the fish on wooden trays designed by us and equipped with magnets, the opened tin as well as a salad and bread – for dipping, of course. Through the menu you are guided by Thomas Vetter and we advise you to trust him fully and share tins to find out where the passion goes. We found the mackerels in Riesling as well as the sardines with candied lemon simply delicious and are looking forward to the next discoveries through further experiments with Thomas Vetter in the Sardine Bar. The most beautiful sardine bar tin is available with the bill as a souvenir to take home. Some are graphic masterpieces and washed out for the salt on the table quite an idea for a recycled souvenir.