Bustling cities versus lonely beaches and the quiet and endless Sahara; Exuberant luxury meets donkey carts and huts made of adobe; Remote villages in the Atlas, which can only be reached by foot, face an international art scene and cosmopolitan flair – Morocco is a country full of mysteries and contradictions. But where to start?!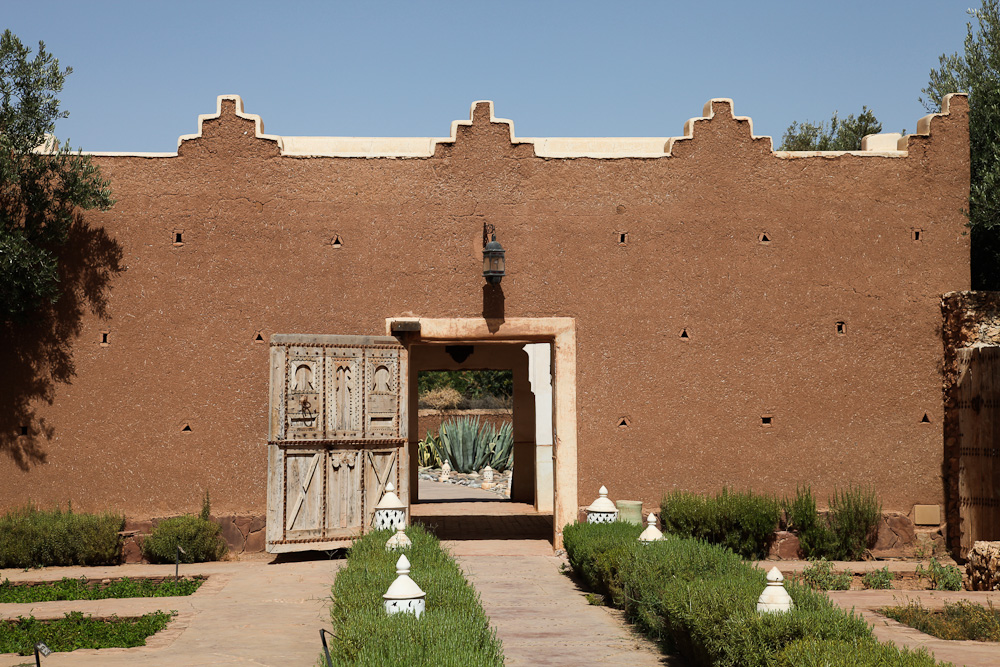 Marrakesh attracts most of the travelers. It is known for its mazelike streets, lively souks and legendary Riads. You can easily spend a few days here making your way through the tiny meandering alleys, bargaining at the markets, admiring the rich cultural heritage and relaxing on the rooftop of your Riad at night. But if your trip stops here, you've only got a glimpse of what Morocco has to offer.
Get in the car and hit the road! In 7 to 8 days, you can get a good first impression of the country, including areas such as the breathtaking Atlas Mountains and the legendary hippie town of Essaouira.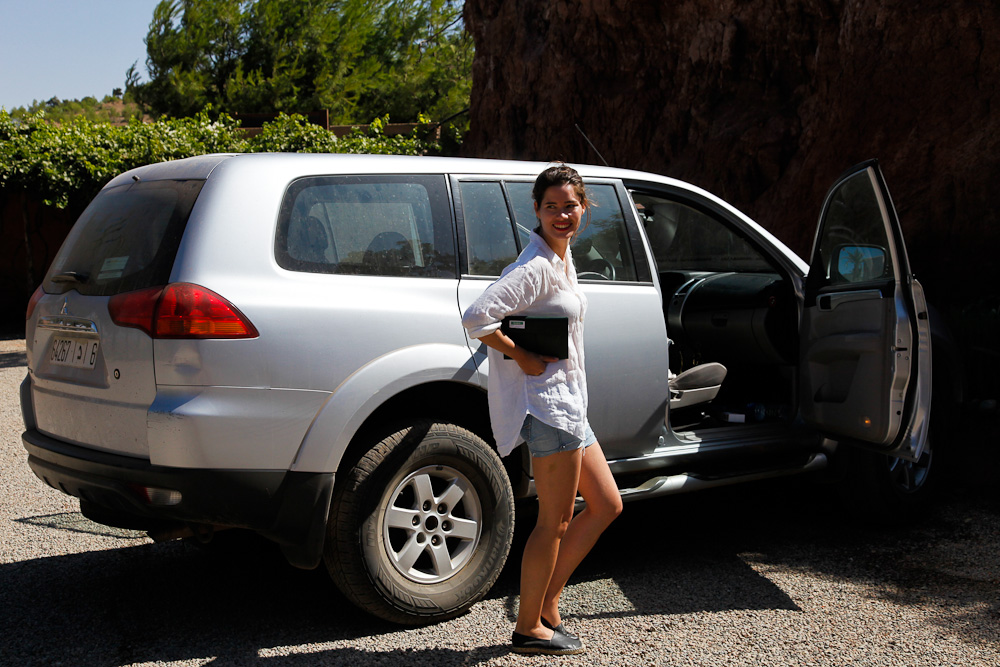 Here are a few very convincing arguments on why your Morocco trip should turn into a road trip:
FIRST STOP: Marrakesh
A place to return to is the most important thing in Marrakesh. Otherwise, the red city will eat you alive. The quiet, but persistent, whistling of the snake charmers and the constant chattering of the storytellers at the Djemma-el-Fna, the smell of 1000 different spices, which whiff through the tiny alleys, and the inspiring culture sometimes drive you to the edge – so find your oasis and let the impressions of the day sink in on you.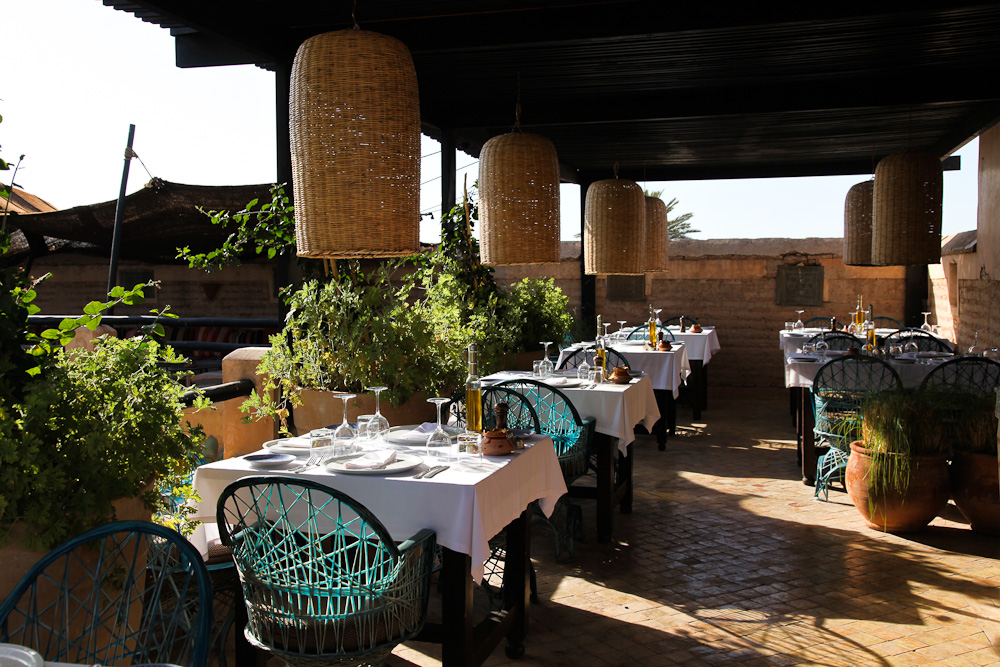 Our favorite oasis in Marrakesh is the Riad El Fenn. Its 21 rooms spread out spaciously over four patios. Each room is individually furnished and the walls are decorated with Moroccan and international artwork, such as pieces from William Kentridge and Bridget Riley. From its rooftop terrace, you have a breathtaking view over the red city. It is the perfect place to come home to!
Riad el Fenn Adresse: Derb Moullay Abdullah Ben Hezzian, Bab El Ksour, Medina, Marrakesch Tel: 00212 (0)524 441210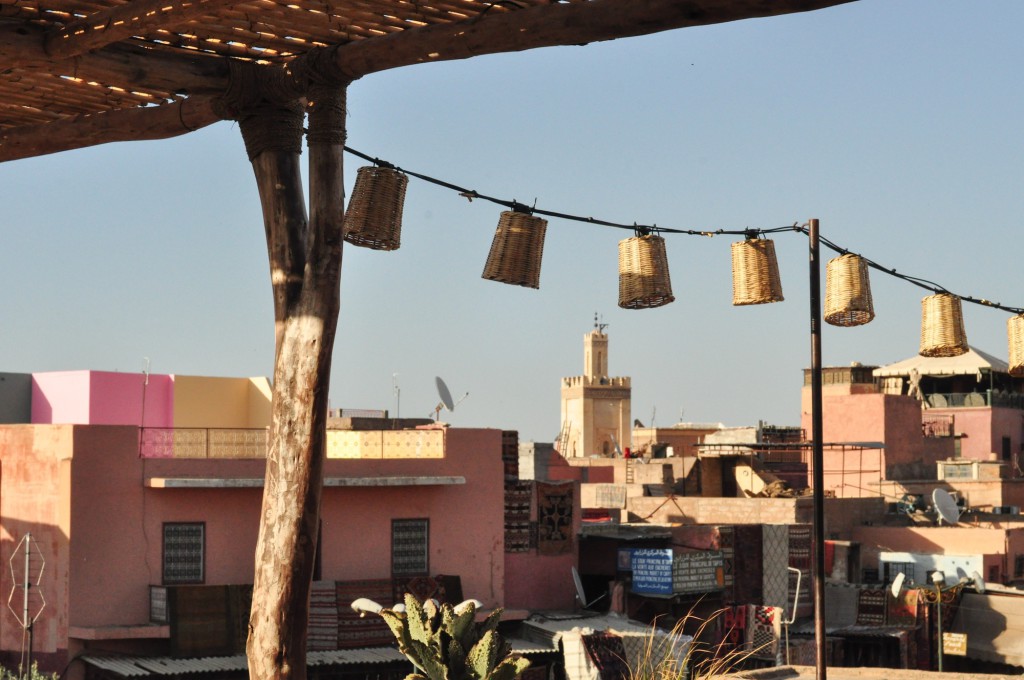 Fancy a drink? That is not an easy undertaking in Morocco, as alcohol is prohibited in the Muslim culture. There are only a few places, which have the license to serve alcoholic beverages. The Nomad is one of them – but with or without a drink this place is spectacular. It spreads over three stories, with a shop selling herbs and spices at street level, a restaurant serving a mix of Moroccan food and French bistro cuisine and a bar on the rooftop. The latter is what you come here for: Great drinks, a fresh breeze and an amazing view over the spice market – what else can you ask for?!
Nomad Adresse: Rahba Lakdima; Medina, Marrakesch Tel: 00212 (0)524 381609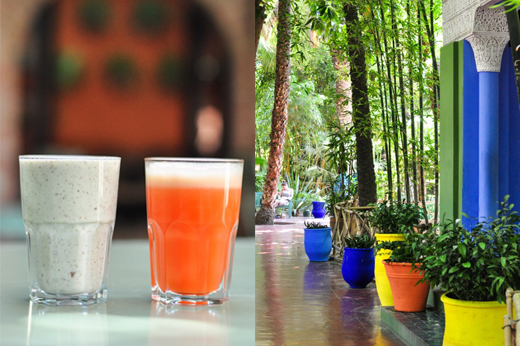 Le Jardin Majorelle outside the Medina is the epitome of an oasis. It is the lifework of French painter Jacques Majorelle and the last resting-place of Yves-Saint Laurent, who bought and reconstructed the garden after the painter's death.
Jardin Majorelle Adresse: Rue Yves Saint Laurent; Guélize, Marrakesch Tel: 00212 (0)524 313047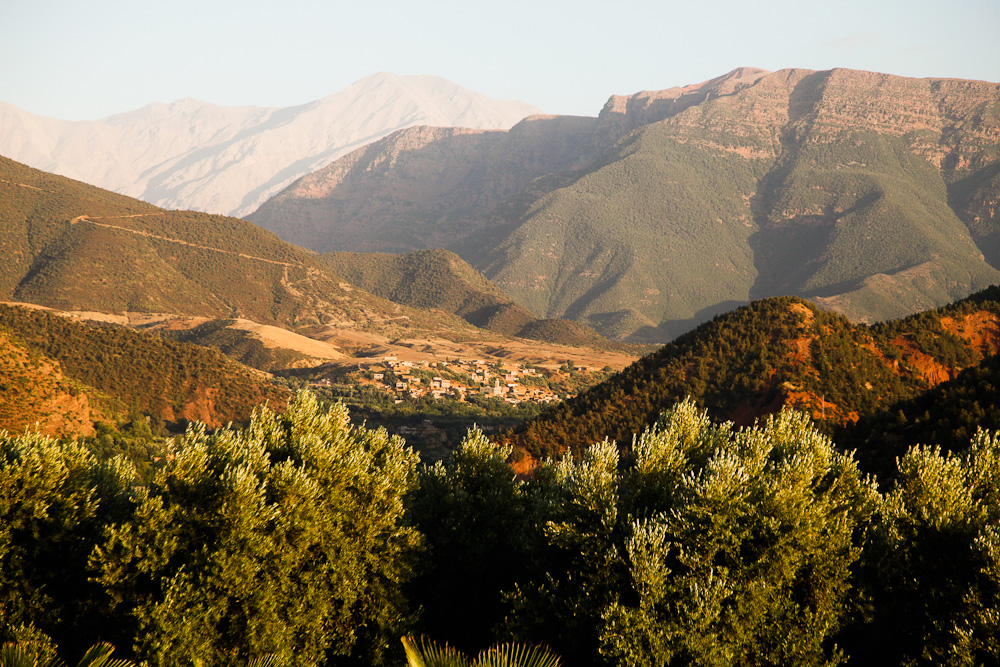 SECOND STOP: Atlas Mountain
Now get in the car and drive towards the magical Atlas Mountains. The mountains' ridge, which connects Morocco, Algeria and Tunisia, exceeds the 4000m at some points and its tops are often covered in snow. The area offers a wide range of natural beauty – from purple blossoming saffron fields to ocher colored hills and juicy green valleys.
KASBAH BAB OURIKA


Kasbah Bab Ourika is the place to stay. It was built in the tradition of old Moroccan fortifications, which are made of solid adobe walls and surround peaceful patios. Almost every part of the hotel offers an amazing view at the mountains. Highlights of the Kasbah Bab Ourika are its spacious terrace and its huge, splendid garden, which invites you to spend all day there sunbathing, reading and dozing.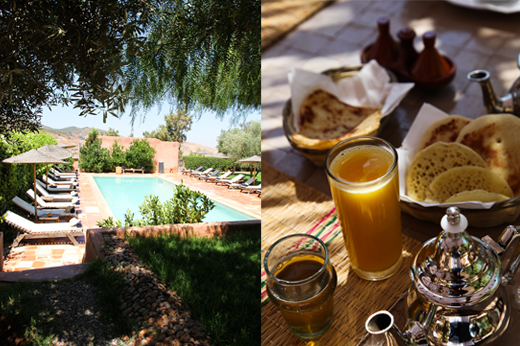 Kasbah Bab Ourika Address: Tnine Ourika; Asgaour Tel: 00212 (0)661 634234
Not far away from the Kasbah, nuzzled into the green Ourika Valley, lies Christine Ferrari's saffron farm. A few years ago, the Swiss decided to turn her life around and left Zurich to start a new chapter in Morocco, dedicated to the precious saffron plant. Visitors can wander around her luscious garden, learn everything from her there is to know about saffron or open up their senses with a relaxing rose petal footbath.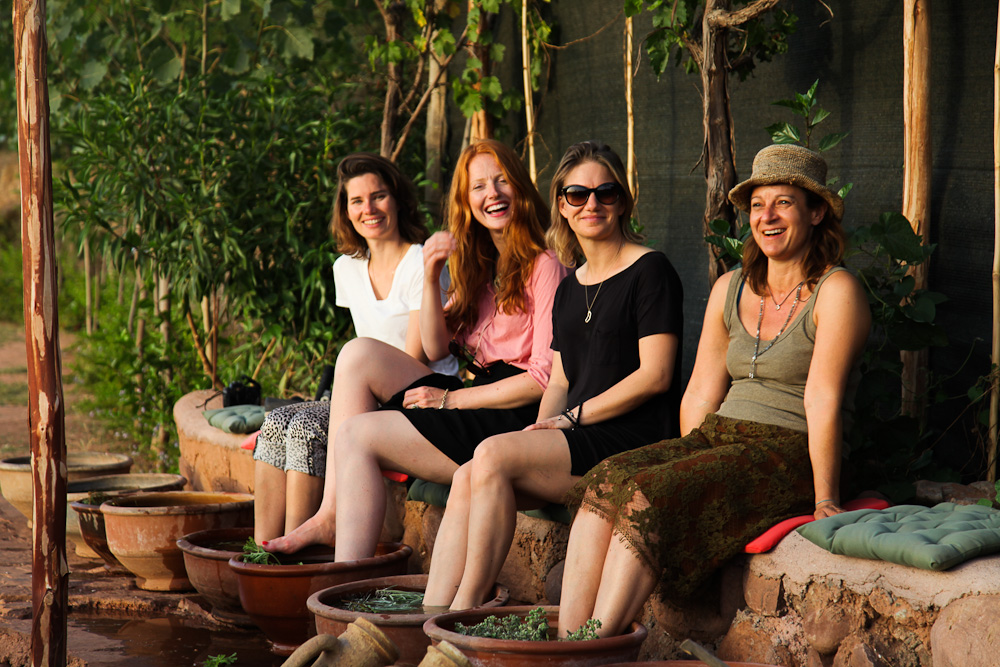 Le Paradis du Safran Address: Km 31, Route d'Ourika, Douar Takateret, Ait Touchente – Ourika Tel: 00212 (0)628 796979
THIRD STOP: Essaouira
After these relaxing days, it is time for some fun. Drive north to the happy hippie town of Essaouira. The blue and white city became famous when Jimi Hendrix and his friends chose it as their favorite surf and hangout spot in the late sixties. The days of the singer are long gone, but the laid back bohemian atmosphere lingers on.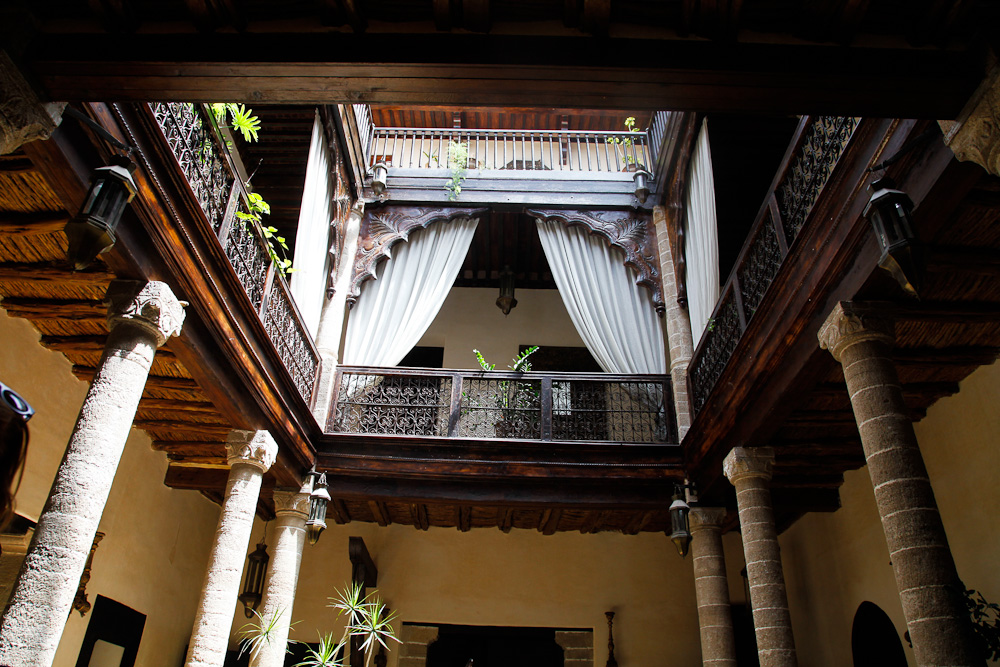 Far enough away from any kind of noise, but still just a stone's throw away from the center and with the ocean in sight, Villa de L'Ô could not be located any better. The 18th century Riad is furnished with pieces and artifacts from colonial times, which add a sophisticated and worldly touch to the old house.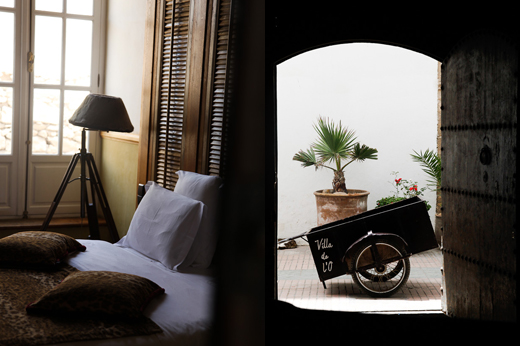 Villa de L'Ô Adress: 3, rue Mohamed Ben Messaoud; Medina, Essaouira Tel: 00212 (0)524 476375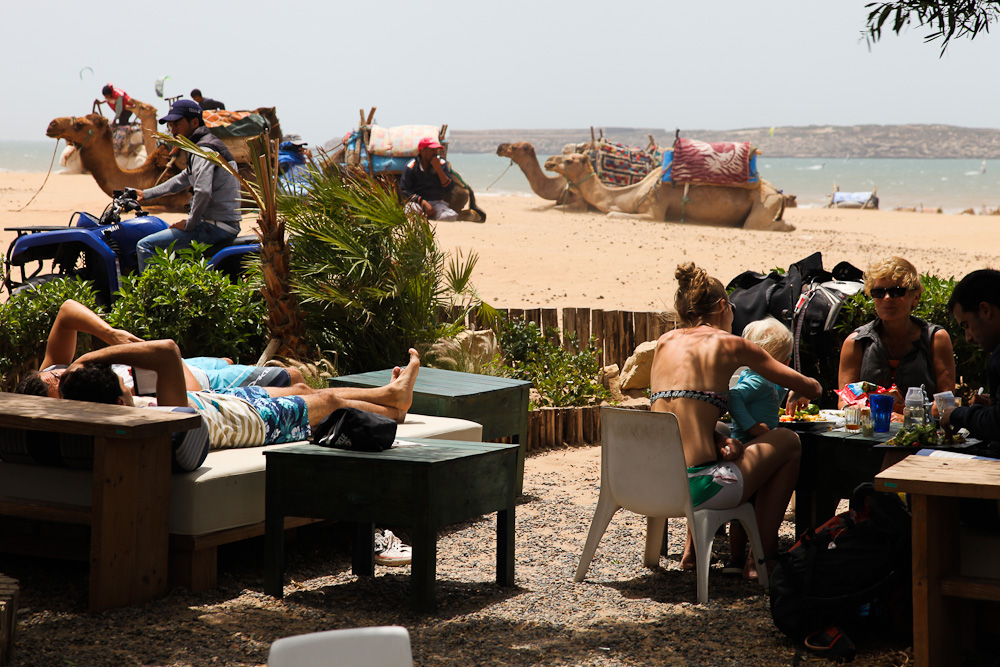 Situated directly at the beach and next to the Mistral school of surfing – the Ocean Vagabond is a favorite hangoutfor surfers and beach bunnies. Next to daybeds, oysters and crêpes it is one of the very few places, where you can get pizza from the stone oven. Delicious and cool at once!
Now, it's time to end your road trip and head back to Marrakesh to give back your rented car and catch the flight back home. But we recommend: Stay just one day longer and wash off the dust from the road at Beldi Country Club.
Océan Vagabond Adress: Boulevard Mohamed V; Essaouira Tel: 00212 (0)661 164412
The hotel and restaurant is located at the outskirts of Marrakesh and one of the most beautiful places in the country – without being overly expensive. With a lot of taste and love, the French Jean Dominique Leymarie created a paradise that stretches over 50 ha and includes an enormous rose garden, a lovely pool area, a luxurious spa, nice and welcoming housing, two restaurants serving delicious French cuisine, its own little Souk and much more…. This is one of the places you know you'll always come back to.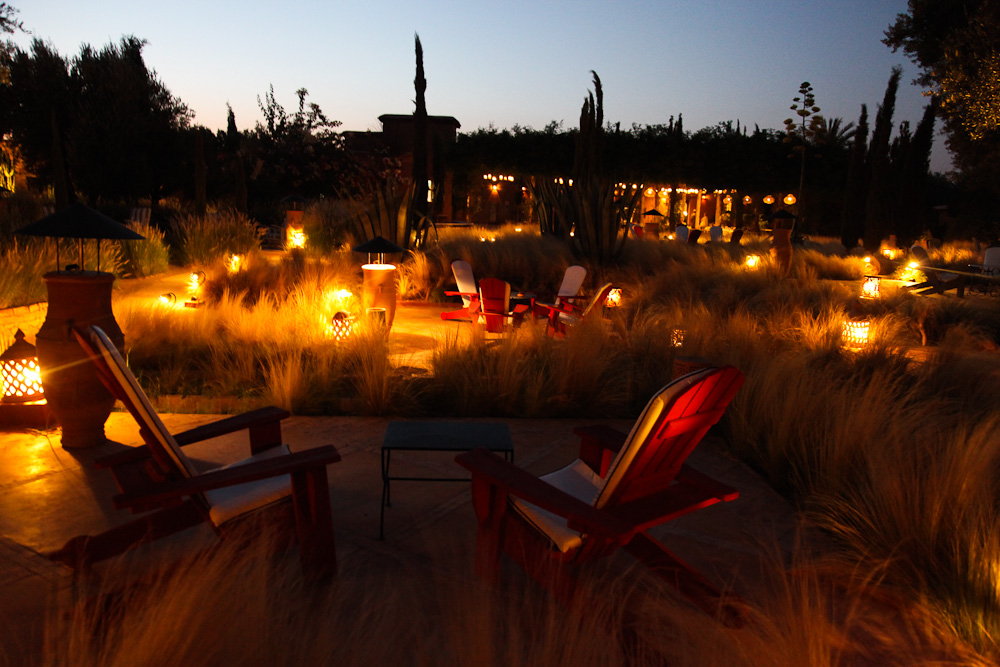 Beldi Country Club Adress: KM 6, Route du Barrage; Marrakesch Tel: 00212 (0)524 383950
Europcar has more than one station in Marrakesh, where you find nice and affordable cars to cruise around the countryside! For example here:
Hotel Sofitel
Rue Haroun Errachid
Tel: 00212 (0)524431228
Marrakech-Menara Airport
Tel: 00212 (0) 524 437718
Safe travels!
Find out more about our favorite spots in Morrocco. Our travel guide "Eine perfekte Woche in Marrakesch, Essaouira und Atlasgebirge" is out now. You can buy it here.
Text: Karolin Langfeldt