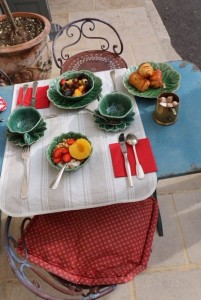 The Hotel des Deux Rocs is located on the way from the Côte d'Azur to the heart of Provence in the picturesque mountain village of Seillans. On the approximately 45-minute drive from Nice, one has to wind up serpentines and drive up to the top in Seillans. And believe us, it is worth it. Up here is pure idyll: The Hotel des Deux Rocs is located directly at the 2 rocks included in its name, which stand next to a historic town gate. And between these and the hotel is a picturesque terrace, in the middle of which a fountain splashes under an old tree – more romance is impossible.
The hotel breathes the spirit of its owners Julie and Nicolas Malzac-Heimermann – they call it "our home" themselves and run the hotel in exactly the same way: you feel cared for and welcome in an organic surround – and not trapped in a stylish concept.
The Hotel des Deux Rocs itself is an old house that a lot of structural engineers would enjoy. Here, no wall is straight, the floors slope down towards the middle and the stairs are crooked and crooked. And that's just wonderful – you can't plan something like that, something like that is created by life.
In the rooms of the Hotel des Deux Rocs there is a pleasant mix of styles – here you can notice the personal touch of Julie Malzac-Heimermann everywhere – many small hand-picked details such as oil paintings, stylish still lifes under glass domes or antiques let the rooms breathe and become something very special and own. The Hotel des Deux Roc breathes the spirit of the people who run it. This is not only said, but is lived and gives us guests a pleasant feeling. The owner's family lives in the house itself, is always there and lets you take part in their life – hospitality makes you happy!
And you could tell a lot more about the good food that is cooked in their own kitchen, the presentation of the food that is just so wonderfully personal and the wonderful conversations that you can have with the owners. And one could also simply say, go to the Hotel des Deux Roc in Seillans and treat yourself to a wonderful time for a very affordable price.
All further information, booking possibilities and opening hours can be found in our tip.